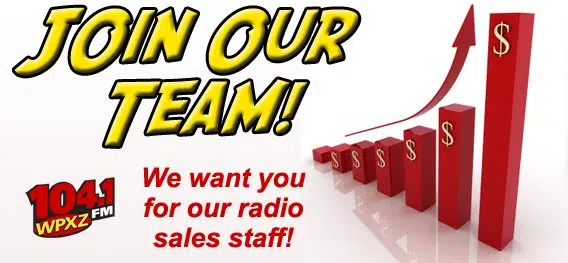 This is Stevette Rosen of Renda Radio and I'm looking to build my sales team. If you're looking for a career and not just a job then WPXZ, KOOL FM 103.3 and WECZ is the place for you. We have immediate openings for account executives that have a strong desire to be a part of a growing organization!
This is a full time position and requires reliable transportation; excellent oral and written communication skills are a must. I have immediate openings on my team for highly motivated individuals with marketing know-how and sales potential. We offer great training and excellent resources. My team is committed to helping companies grow through effective marketing and advertising programs. E-mail resumes to srosen@wpxz1041fm.com, mail to 904 N. Main Street, Punxsutawney, PA 15767 or fax to 814-938-0307.
Renda Radio is an equal opportunity employer.
Renda Radio Inc. Equal Opportunity Employment Statement
Renda Radio Inc. is an equal opportunity employer and has followed a consistent practice of non-discrimination as well as outreach to the community and workforce regarding broadcast career and job opportunities. The station's policy is to provide equal opportunity employment, development and advancement to all current and potential employees regardless of race, color, gender, marital status, religion, age, national origin or citizenship status, disability, sexual orientation or status as a veteran or special disabled veteran. The station seeks the help of local community organizations in referring qualified applicants to our station. Community organizations that wish to receive our job vacancy information should contact us at 814-938-6000.